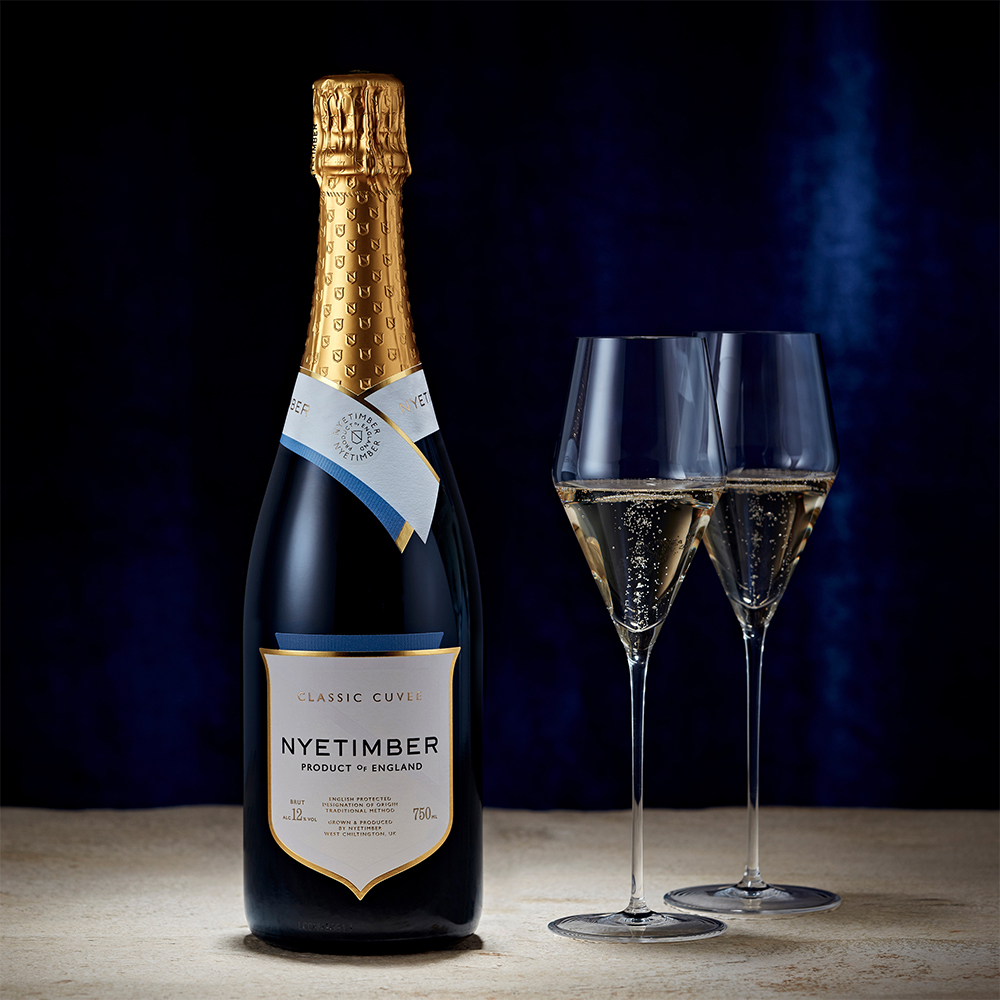 Classic Cuvee
Multi-Vintage
Our flagship Cuvee
The signature wine of Nyetimber is a classic blend of Chardonnay, Pinot Noir, and Pinot Meunier and is a perfect balance of elegance and intensity. The blend includes wines from all our vineyards and also from several vintages.
GRAPE VARIETY
50 to 60% Chardonnay
30 to 40% Pinot Noir
10 to 20% Pinot Meunier
REGION
West Sussex & Hampshire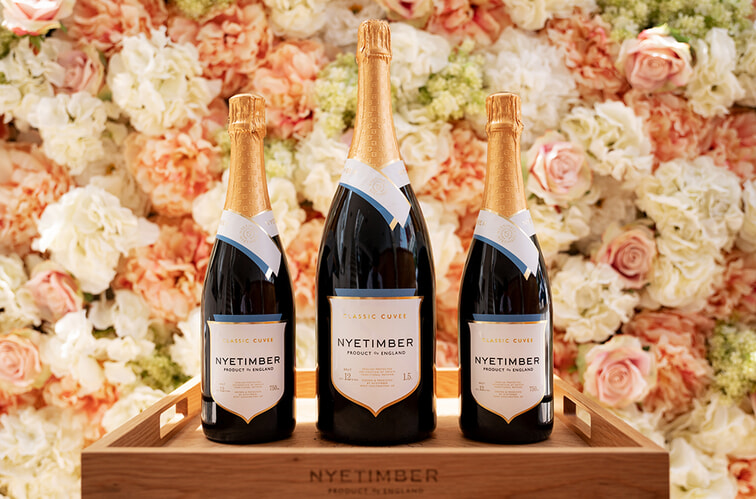 WINE LIBRARY
Lovely pale gold and gentle, fine bubbles. Toasty, spicy and complex aromas showing wonderful development after more than three years on lees in our cellar. The palate supports these complex aromas with honey, almond, pastry and baked apple flavours. Very fine and elegant with a great combination of intensity, delicacy and length.
Pale gold, great clarity and tiny bubbles. Aromas of fresh melon, meyer lemon, proving bread, sweet pea flowers & vanilla followed by fresh apricot and melon flavours on the palate and lovely tiny bubble texture. Apricot and bread flavours continue on the long finish. The wine has all the balance and structure needed to age for many years to come.
Delicate bubbles pervade this light golden wine, filling the nose with aromas of lemon tart, biscuit and floral notes. The palate has a rounded mouthfeel, echoing the nose with flavours of lemon tart and pastry. The citrus character reappears on a long and fruity finish.
A pale golden wine of gently spiralling, soft textured bubbles. Filled with bright citrus, sweet pastry, apple and hints of a floral bouquet, the aromas heighten the cuvee's pure crystalline palate of lime and gently toasted flavours. The finish is long with a pleasing citrus peel zest.
This cuvee features tiny bubbles in a light golden hue. Sweet fruits such as peaches and apricots provide a strong and fresh aroma while vanilla contributes a further layer of interest. The palate has a sweet, fruity start with strong intensity of flavour which, combined with the delicate bubbles, create a well-rounded mouthfeel. Notes of almond and baked peach are also present. The high fruit intensity lingers on a long and fruity finish.
This graceful wine displays gently spiralling bubbles through a bright golden complexion. The nose abounds with sweet almond, toasted croissants, vanilla and citrus fruits. Round and fresh on the palate, cordial flavours of orange and vanilla precede a long full dry finish.
Through a pale golden hue, this wine whirls into a spiralling set of bubbles. Baked lemon, bread dough, and strong minerality contribute to its inviting aroma. The palate is fresh and vibrant with a core of grapefruit, lime leaves and minerality while bubbles bring roundness to the cuvee. Strong fresh lemony finish.
This wine is a brilliant light gold with a fine-beaded mousse. The nose evokes mandarin and vanilla and hints of lemon zest, shortbread and light apricot. A very fruit-driven cuvee, with yeasty and biscuity notes playing the supporting role. Fresh yet complex. The palate has a refreshing start to this compact and concentrated wine full of pink grapefruit, green melon and apricots. Well balanced with a pure minerality and fresh mandarin peel on the finish.
A bright medium gold wine flickering with delicate bubbles. Musk, toffee, marmalade and earthy aromas fill the nose.  Enticing the palate are strong toffee and smoky flavours. With a baked citrus flavour finish, this is a full and mature wine yet one with vibrant acidity.
Delicate bubbles and a gentle mousse complement the restrained golden hue of this wine. Aromas of toast, caramel and mature baked fruit are complex and intriguing while an echo of dried fruit prevails on the palate.  Full bodied with very gentle bubbles, this wine has a very long  finish of caramel and toast flavours.
PERFECT PAIRINGS
A sumptuous blend of Chardonnay, Pinot Noir and Pinot Meunier.
Our Classic Cuvee Multi-Vintage is best enjoyed in the sunshine with some freshly caught seafood – preferably with the waves lapping at your feet.
SMOKED SALMON
OYSTERS
SCALLOPS
ASPARAGUS
SUSHI