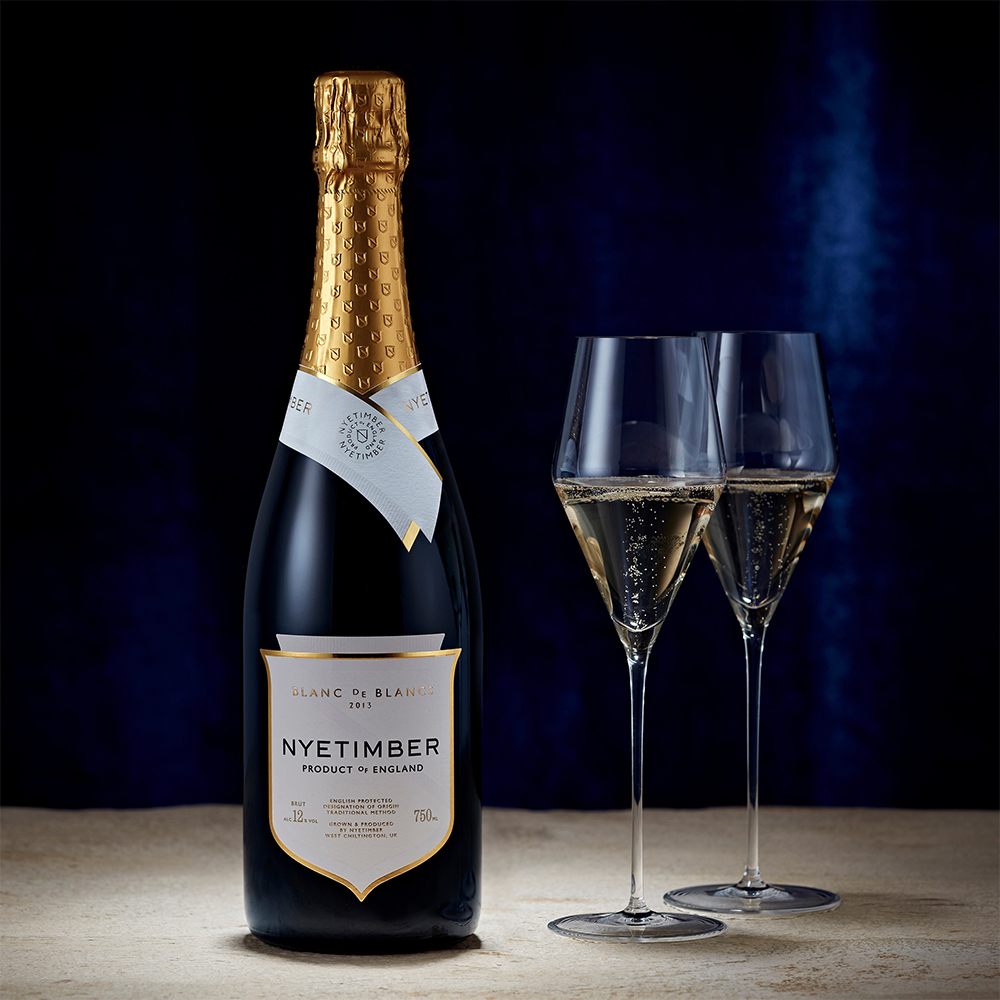 Blanc de Blancs
2013
An elegant wine that perfectly blends complexity and delicacy
A wine aged for a longer time on the lees to develop classic brioche and vanilla aromas.
GRAPE VARIETY
100% Chardonnay
WINE LIBRARY
Lovely pale gold in colour with a fine bead. This Blanc de Blancs shows our classic signature of delicate floral and citrus aromas followed by subtle vanilla and toast flavours, but now with a pure crystalline core thanks to the inclusion of Chardonnay from our Hampshire vineyards. A long, complex finish makes this a wine to be savoured.
Lovely pale gold in colour with a fine bead – this Blanc de Blancs is the essence of pure Chardonnay. The aromas and flavours are in perfect harmony, beginning with delicate floral and citrus followed by subtle vanilla and toast. A long, complex finish makes this a wine to be savoured.
Pale gold in colour with tiny, delicate bubbles. Floral and lime aromas lead on to rich notes of pastry and brioche. On the palate, fresh citrus flavours are balanced with an underlying minerality and a toasty intensity. Very fine and elegant with a long, complex finish.
A lovely pale straw-yellow colour. The essence of purity, with a rich nose of bergamots, Philadelphus and Granny Smith apples followed by racy citrus fruits and focused minerality on the palate.
Aromas of peach and citrus, along with floral notes and an almond pastry character on the nose of this classic, elegant golden wine. On the palate, the wine starts with lovely lemon and lime flavours. Gentle bubbles and texture create a delightful body, balance and freshness.
This wine radiates a charming straw-yellow colour with hints of green and a fine bead with delicate mousse. The nose displays flavours of lemon and baked apple, white flower and vanilla. On the palate, there is a zesty green apple entry followed quickly by baked lemon and minerals. The wine is structured with a tangy acidity and uplifting citrus characters that continue on the finish.
Light amber in colour, this wine's leading aromas are of lime and white flowers. Spices and vanilla add a wonderful interest to its character along with hints of toast. Baked citrus gives this wine a great entry followed by roasted nut flavours which add complexity. It is vibrant and linear with excellent creamy bubbles creating a pleasant mouthfeel. The finish is long with brisk acidity, green apple flavours and minerality.
Mellow gold in colour with hints of green, this wine has a fine bead and delicate mousse. The nose displays powerful aromas of lemon, spice and vanilla with subtle notes of caramel and minerality. A clean fresh citrus entry on the palate is quickly followed by classic Chardonnay characters of baked lemon and minerals. The bubbles are soft and give a lovely delicacy to the wine. The long finish is full of citrus and toast.
This wine has an impressive golden colour, particularly for its age and delicate bubbles. Still exuding a freshness after all these years, honey and lemon candy on the nose alongside delectable mature characters like crème brûlée and toast. On the palate, the wine has a soft and rich entry that progresses nicely to toast and flavours of pie crust. The mid palate is very rich while mature Chardonnay characters of hazelnut and vanilla bean make for a long intriguing finish. Gentle bubbles add to the voluptuous mouthfeel which is tickled by a lively acidity.
PERFECT PAIRINGS
With around five years on its lees, gives our Blanc de Blancs a savoury biscuit-y character, making it a highly versatile wine. We'll take ours with some fritto misto and a dollop of aioli, thanks.
WHITE CRAB
LOBSTER
FRITTO MISTO
OCTOPUS
MUSSELS