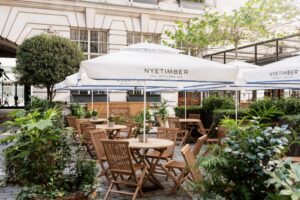 This September, Rosewood London will reopen its doors with a new outdoor dining space, The Nyetimber Terrace. From 1st September, Rosewood London will bring the charming surroundings of the Nyetimber Estate and the heart of the English countryside to central London.
Following last year's successful Secret Garden pop-up, guests will have the opportunity to experience Nyetimber's prestige range of English sparkling wines both by the glass and by the bottle. The pours on offer will include a varied selection of white and rosé sparkling wine including Nyetimber Classic Cuvee, Nyetimber Rosé and Nyetimber Cuvee Chérie, as well as the newly launched Classic Cuvee 2010 Magnum.
The terrace has been expanded to allow for social distancing to ensure more diners can enjoy the majestic atmosphere of the hotel's historic Edwardian courtyard.