Continuing our celebration of the reopening of hospitality, we are privileged to have joined Andrew Wong, Chef Patron of A. Wong restaurant in the kitchen.
In January, his Pimlico-based restaurant became the first Chinese restaurant in the UK and outside of Asia to win two Michelin stars. A fantastic achievement for Andrew, who is the third generation of a family of restaurateurs.
"The story of Nyetimber, just like the story of our restaurant, is one of a journey and it's not only a journey about strength, but also a journey of perseverance. It's perseverance that has helped us get to where we are today but it's also a constant search for celebration through flavours and companionship."
We are delighted to go behind the scenes to shine a light on his journey. Originally, Andrew simply aimed for A. Wong to be somewhere that he and his wife would like to enjoy in their neighbourhood. However through a combination of passion and teamwork, it has evolved into far more.
"Our dishes not only represent gastronomy but also Chinese culture and Chinese history. It's about trying to get a moment of time captured within a dish."
As well as sharing his insight into Chinese cuisine and its evolution, we are delighted to also share Andrew Wong's recipe for char siu and scallop cheung fun mille-feuille. "This vibrant dish encapsulates everything a dim sum should be, celebrating classic tastes, flavours, textures and heritage in each mouthful."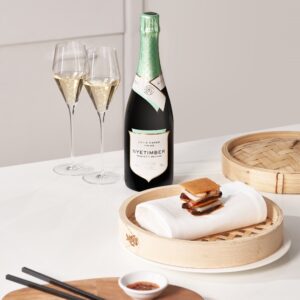 Fresh scallop, aromatic char siu pork, tender cheung fun and rice roll all combine in a symphony of flavours and textures that exemplify the skill and passion for which Andrew and his kitchen have become known. He recommends this dish is paired with Nyetimber Cuvee Chérie.
"The dish shares a lot of the common aromas and common flavours that you'll find in the Cuvee Chérie such as the tangerine, the honey and very, very light notes of vanilla. The delicately crisp aspect of the Cuvee Chérie also adds an incredible lightness when paired with the delicacy of the scallop."
Discover the full recipe for Char siu and scallop cheung fun mille-feuille for you to try at home or alternatively…
We recommend you try this fantastic dim sum, as created by the experts and paired with Nyetimber Cuvee Chérie, by reserving a table and discovering Restaurant A. Wong for yourself.
In the coming months, we look forward to sharing more stories with you as we continue to celebrate the reopening of our favourite restaurants and some of the finest gastronomy.