"This vibrant dish encapsulates everything a dim sum should be, celebrating classic tastes, flavours, textures and heritage in each mouthful."
Discover Andrew Wong's recipe for char siu and scallop cheung fun mille-feuille. Fresh scallop, aromatic char siu pork, tender cheung fun and rice roll all combine in a symphony of flavours and textures that exemplify the skill and passion for which Andrew and his kitchen have become known. He recommends this dish is paired with Nyetimber Cuvee Chérie.
"The dish shares a lot of the common aromas and common flavours that you'll find in the Cuvee Chérie such as the tangerine, the honey and very, very light notes of vanilla. The delicately crisp aspect of the Cuvee Chérie also adds an incredible lightness when paired with the delicacy of the scallop."
See more from our interview with Andrew Wong here, read the full recipe below or skip down to our pre-prepared shopping list, not forgetting the Nyetimber Cuvee Chérie of course.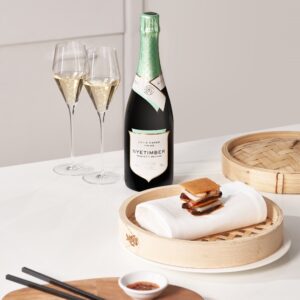 Method
(makes 4 dim sum)
1/ To be prepared the day before. For the char siu, mix all the ingredients together (apart from the iberico pluma). Trim any silverskin from the pork and then use a spiked tenderiser to punch holes into the meat. Flatten the meat with a rolling pin until approximately 1cm thick, then place the pork in the marinade and leave in the fridge overnight.
5 tbsp of caster sugar
1 tbsp of light soy sauce
1/2 tsp bicarbonate of soda
2 tbsp of Chu Hou sauce
2 tsp cornflour
5 tbsp of water
2 tsp vegetable oil
2 tsp rosé wine
1 tsp garlic powder
1/2 tsp red food colouring
1 tsp ground star anise
500g of iberico pluma
2/The next day, prepare the cheung fun sheets. Combine all the ingredients together in a bowl to form a batter, then cover and leave to rest at room temperature for 30 minutes.
300g of rice flour
37g of wheat starch flour
206g of water chestnut flour
37g of potato starch
37g of cornflour
750ml of iced water
1 tsp vegetable oil
Prepare a flat, rimmed baking sheet or shallow baking tin which will fit inside your steamer oven, or a large steamer tray. Cut a sheet of baking paper so that it sits neatly within the sheet or tray. Pour the batter onto the paper so that it forms a 1mm-thick film over the paper (you may need to work in batches depending on how big your tray is)
Place the tray in a steam oven or a large steamer set to a medium heat and cook for just 1 minute, until the batter solidifies and resembles a thin film of pasta. Leave to cool for 10 minutes, then carefully peel the sheet off the baking paper and cut into 5×2.5cm rectangles. You will only need 2 pieces of cheung fun per portion, but any excess can be kept in the fridge.
3/Preheat your oven to 250°C, or as high as it will go. Line a large baking tray with baking paper and brush liberally with the melted butter, then place the feuilles de brick pastry on top. Roll out until 1mm thick, then brush the top with the remaining butter and place another sheet of baking paper on top. Transfer the tray to the oven and bake for 20 minutes, or until golden brown. Turn the oven down to 180°C/gas mark 4.
100g of salted butter, melted
1 sheet of feuille de brick pastry
Cut the pastry into 5×2.5cm rectangles, then store in an airtight container. You will need just 3 rectangles of pastry per portion for this recipe, but the rest will keep for a few days.
4/Combine the ingredients for the sugar syrup in a pan and gently heat until the sugar dissolves. Set aside.
250ml of water
100g of caster sugar
50g of maltose
50g of honey
5g of oyster sauce
5ml of dark soy sauce
5/Take the pork out of the marinade and sear in a very hot pan until seared and slightly charred all over. Transfer to the oven and roast for 20 minutes or until cooked through, then transfer the meat to the sugar syrup, ensuring it is fully coated, and leave to sit for 1 hour.
6/Meanwhile, combine the ingredients for the dipping sauce in a pan and gently warm through. Keep warm until ready to serve.
1 tbsp of garlic, chopped
3 tbsp of soy sauce
2 tbsp of red rice vinegar
2 tbsp of caster sugar
3 tbsp of chilli oil
2 tsp sesame oil
1 tbsp of fermented chilli bean paste
2 tbsp of water
1 tbsp of wasabi tobiko
7/To cook the scallops, season them lightly with salt and pepper before then adding the butter to a frying pan over a high heat. Once the butter is foaming and golden brown, add the scallops and cook for around 2 minutes on each side until golden and cooked through. Set aside and before plating, cut into very thin discs.
4 scallops, ideally hand-dived from the Isle of Mull
1 knob of butter
sea salt
freshly ground black pepper
8/Drain the pork from the sugar syrup and cut into very thin slices. You are now ready to assemble the dish.
Start with a layer of pastry on the base of each plate, then add 2 slices of scallop to completely cover the pastry. Top with a piece of pork, then a piece of cheung fun, followed by another piece of pastry, scallop, pork and cheung fun. Finish with a final piece of pastry before serving with the warm dipping sauce spooned around the dish.

Shopping List
Fresh Meat
Store Cupboard
188g of caster sugar

1/2 tsp bicarbonate of soda

39 tsp cornflour

1 tsp garlic powder

1/2 tsp red food colouring

sea salt

300g of rice flour

37g of wheat starch flour

37g of potato starch

1 sheet of feuille de brick pastry

50g of honey

7.5g of oyster sauce

5ml of dark soy sauce
3 tbsp of soy sauce

1 tbsp of light soy sauce
Speciality Ingredients
2 tbsp of Chu Hou sauce

206g of water chestnut flour

50g of maltose

2 tbsp of red rice vinegar

1 tbsp of fermented chilli bean paste

1 tbsp of wasabi tobiko
Beverages
257 tbsp of water

2 tsp rosé wine

750ml of iced water
Oils & Vinegars
3 tsp vegetable oil

3 tbsp of chilli oil

2 tsp sesame oil
Spices & Dried Herbs
1 tsp ground star anise

freshly ground black pepper
Fish & Shellfish
4 scallops, ideally hand-dived from the Isle of Mull
Dairy
1 knob of butter

100g of salted butter, melted
Fruit & Vegetables
1 tbsp of garlic, chopped