Nyetimber was incredibly privileged to welcome the celebrated British fashion designer, Dame Vivienne Westwood, to the Nyetimber Estate in West Chiltington, West Sussex, this November.
The visit brought together two British pioneers and was a wonderful opportunity for Nyetimber to showcase its heartland.
Nyetimber – makers of England's finest sparkling wine – has enjoyed a warm relationship with the designer for several years, keenly supporting Vivienne Westwood's causes including the Trillion Fund, Climate Revolution and most recently, the 'Mirror the World' Red Label SS16 catwalk show for London Fashion Week 2015.
On arrival at the Estate, Vivienne Westwood and her husband and Creative Director, Andreas Kronthaler, joined head winemaker Cherie Spriggs for an intimate tasting in The White Barn. Together they discovered the craft and philosophy behind the West Sussex producer's award-winning sparkling wine.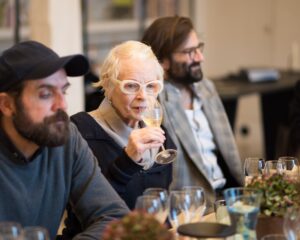 Following the tasting, Vivienne Westwood and Andreas Kronthaler toured the Manor vineyard, walking amongst the oldest Chardonnay vines in England, with the beautiful backdrop of the South Downs and West Sussex countryside.
Dame Vivienne Westwood comments: "There is something very special about the Nyetimber Estate, situated in the wonderful West Sussex countryside between the Downs and the soft rain. The wine tastes wonderful, just fantastic – the bottles are beautiful too. That's Champagne, and this is Nyetimber, it's incredible."
The visit concluded with a specially created three course lunch, with each dish paired to a Nyetimber English sparkling wine.