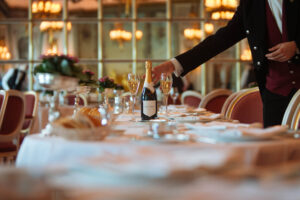 A testament to Nyetimber's pioneering approach to winemaking and celebrating the very Best of British, Nyetimber are delighted to announce that they will be Sparkling Wine of the Month for August at The Ritz London.
In June 2017, Nyetimber made history by becoming the first sparkling wine in the 110 year history of the Ritz London to be featured in what was formerly known as Champagne of the Month.
The award-winning collection of Nyetimber sparkling wines will be featured in the iconic Rivoli Bar, in the newly Michelin-starred Ritz Restaurant and in rooms and suites.
To keep up to date with all Nyetimber news and events, please subscribe to our newsletter, and follow us on Facebook, Twitter and Instagram.