This February, we are raising a glass to love in all its forms and to the people who have been there with us, through trials and triumphs, whether near or far. Whether marking age-old friendships, celebrating lasting romances or looking ahead to the sparkling promise of new chapters yet to begin, discover some of our favourite gift ideas below.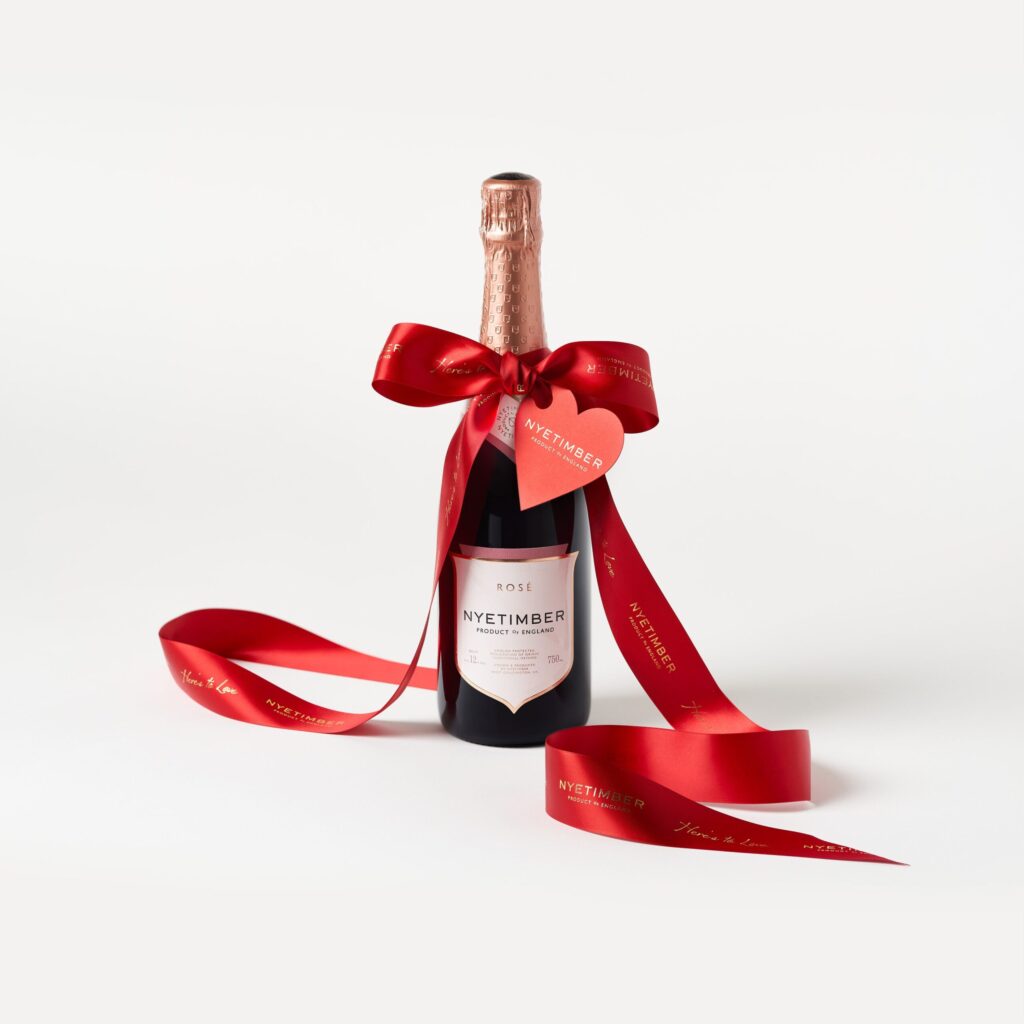 Celebrate someone near to you with our 'Here's to Love' edition Classic Cuvee MV or Rosé MV
In many cultures, the colour red is associated with happiness, good fortune, vitality and of course, love. This month, Nyetimber celebrates these qualities with our 'Here's to Love' edition Classic Cuvee MV or Rosé MV, adorned with an elegant bright red ribbon and gift tag. With delivery available direct to  door, this is sure to be a welcome gift for any who receive it.
Shop our 'Here's to Love' edition Classic Cuvee MV or Rosé MV
Enjoy a "Nyetimber Night In" virtual tasting with our Brand Ambassadors next Sunday
Add a little sparkle to your Valentine's Day and enjoy a "cosy evening in" with Nyetimber over a virtual tasting next Sunday 14th February from 5.30pm GMT. Meet our Brand Ambassadors and spend an engaging half hour learning more about the fascinating story behind our pioneering English Sparkling Wines, as well as how we craft them.
In celebration of Valentine's Day, we will be showcasing our Rosé Multi-Vintage, the perfect wine to accompany a romantic evening in. Our Brand Ambassadors will guide you through a tutored tasting and explore the incredible versatility that this cuvée has in pairing with a variety of dishes. While it is not compulsory to have a glass in hand, it is highly recommended to have a chilled bottle of Nyetimber Rosé to enjoy alongside the session.
To learn more, and join the event, please register for the tasting
For the epicurean, the pinnacle of our rosé winemaking: 1086 Rosé
For the dedicated oenophile, our 1086 Rosé is refined and elegant, evoking floral, cassis and red fruit aromas. England's first rosé prestige cuvée, its wonderful progression of flavours and fine balance between fruit and structure demonstrate just why this represents the pinnacle of our rosé winemaking.
Ideal for two with something to celebrate, the Nyetimber Two-Glass Gift Set
Unforgettable moments deserve the finest English Sparkling Wine and of course, the finest glassware. Our Two-Glass Gift Set offers both; a bottle of our award-winning wine along with two stylish branded glasses that can be saved for future celebratory occasions. Choose from our exceptional Blanc de Blancs 2013,  or one of our Multi-Vintage wines: The delicately sweet Cuvee Chérie Demi-Sec, our fruitful Rosé or the flagship Classic Cuvee.