Nyetimber are thrilled to present an exciting addition to our series of virtual tastings and talks. On 27th of May, Nyetimber Winemaker Brad Greatrix will be in conversation with Marc Almert, winner of Best Sommelier of the World 2019 at Association de la Sommellerie Internationale competition in Antwerp, Belgium.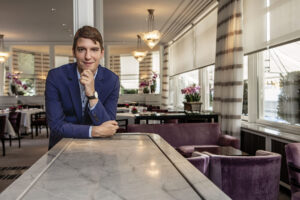 Join Brad and Marc live as they discuss the evolution of Nyetimber and English sparkling wine, how to become a sommelier at very top level, and more, all of course with a glass of Nyetimber in hand.
Marc Almert qualified by first winning the Best Sommelier in Germany competition. He advanced through a field of 66 finalists from 63 countries, winning the competition at just 27 years old, an age when most wine drinkers are only beginning to explore their own tastes, let alone understand the wine world at large.
Join 'Nyetimber In Conversation With Marc Almert' on 27th May at 7pm BST, via this link.